We are a NO pressure type of place. We want you to feel like you're at home in a friendly and welcoming environment.
We have BOTH in-person and online services at 9 a.m. and 10:30 a.m. Our Online experience is the same as what you'd see in-person, but from the comfort of your own couch!
First, we promise nothing weird or awkward. Second, we have free coffee and tea in the lobby. Want to blend in with the regulars? Arrive a few minutes early, make yourself a fresh cup just how you like it, and find a comfy seat. Our brewed coffee is seriously delicious, but if you're needing an extra jolt, we also offer espresso drinks, with a variety of milk options, for purchase.
Our service format varies from week to week, but there will always be live music and teaching from one of the pastors on our speaking team. We put the words on several screens so you can sing along if you'd like, but some of us can't carry a tune, so we just listen and that's good too. The entire West Venue service will be live streamed Online. The East Venue has live music, but the pastor's teaching is live streamed. You can take notes on our mobile app or you can just sit and listen!
Remember we promised no awkwardness? And no pressure? That includes we don't pass plates, or buckets, or whatever you might have seen elsewhere. Connect cards (the pastor will explain about those) and donations are submitted online, through our app, or there are drop boxes you can use on your way out. Whatever is most comfortable is exactly what you should do. We're just happy you're here.
Finally, the entire service is always under 60 minutes! Just enough time to finish that tasty cup 'o joe.
west venue
Our West Venue hosts an energetic, contemporary, and contemplative worship experience. Find this venue through the main doors and to the left.
east venue
Our "Unplugged" service is an acoustic option with a mix of contemporary and traditional songs. More relaxed, with softer music and lighting, this service is for all ages, and especially for anyone who prefers acoustic worship versus the pop/rock style played in the West Venue. You'll find the East Venue through the main doors to the right.
north venue
The North venue is where C3 Youth (6th- 8th graders) meet on Sundays during the 10:30 a.m. service! At C3 Youth Sunday, you can expect a live band playing high-energy music, content and discussions specifically designed for preteens, and more!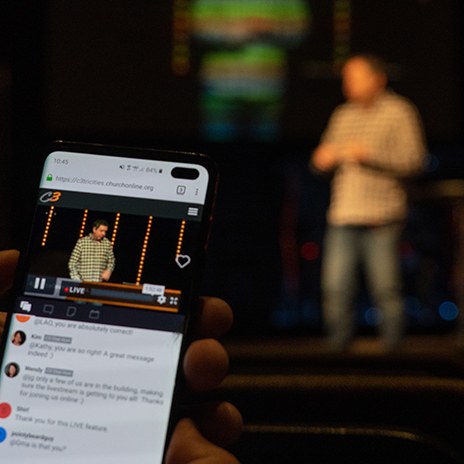 Online
This is the West Venue service, in its entirety, live streamed to your couch (minus the free coffee—our IT crew hasn't perfected that aspect, yet). Stay in your PJs, snuggle the dog, and watch from home or wherever you happen to be! Join us LIVE Sundays at 9 a.m. and 10:30 a.m. on YouTube or on our website. Our livestream can even be accessed through our mobile app!
PASTOR MARK BARKER - ON SABBATICAL
INFANT – 5TH GRADE
Our kids programs are available Sundays during our 9 a.m. and 10:30 a.m. services. Head to our children's wing to check your child in to their age-appropriate classroom. Parents can enjoy the service while our highly trained staff plays with, loves on, and teaches your kids at their grade level.
Not ready to join us in person? No problem! We have online kids content for all ages.
what about middle and high school students?
Kids in grades 6th-8th are invited to the North Venue on Sunday mornings during the 2nd service at 10:30 a.m. There is a live band playing high-energy music, discussions specifically designed for preteens, and more!
Youth in grades 6th-12th are encouraged to join us in-person OR online every Wednesday at 6:30 p.m. You are also welcome to sit together during the 9 a.m. service in the East Venue with Andrew, our Youth Ministries Director.
Frequently Asked Questions
What should I wear? We want you to be comfortable. Some enjoy getting a bit dressed up, along the lines of business attire, but most of us dress casually – think jeans and a shirt. Also, your team's jersey on game day is 100% appropriate, and may even get you a high-five or two!
Can I bring my pet? Service Dogs are welcome on our campus. Under the ADA, they must be harnessed, leashed, tethered, or under otherwise effective control. While it breaks our hearts – we love our fur kids too – we kindly ask you to leave all other pets at home.
How long is the service? 

Services last about an hour. We start by singing a couple songs, then you'll hear announcements followed by teaching from one of our pastors, and we'll close with one more song.

 

Can I attend if I'm _____? 

Fill in the blank with whatever fear you have about not being accepted: divorced, single parent, broke, an addict, a skeptic, etc. Everyone is welcome. So come as you are, and we'll see you on Sunday!
Still have questions? Call us at 509-627-2055.