We are a NO pressure type of place. We want you to feel like you're at home in a friendly and relaxed environment. C3 is a non-denominational Christian church with a diversity of faith backgrounds and experiences. It doesn't matter what mistakes you've made in the past, at C3 you're always welcome. We are community-oriented and full of people from all stages in life.
We want to help you take the next step in your faith. Next class will tell you all of the ways that you can get connected.
Curious about C3's history or organizational and decision-making structure? This class is for you!
We are leading people into NEW and GROWING relationships with Jesus!
C3 has three venues (plus an online experience) for you to enjoy services from. No matter which venue you choose, you will get amazing music from a live band and a message delivered by a pastor that is relevant to your life. You can take notes on our mobile app or you can just sit and listen. How someone dresses isn't a big deal at C3. Just wear whatever you feel comfortable in. The best part? Services are always under 60 minutes!
west venue
Our West Venue hosts an energetic, contemporary, and contemplative worship experience. Find this venue through the main doors and to the left.
east venue
Our "Unplugged" service is an acoustic option with a mix of contemporary and traditional songs. More relaxed, with softer music and lighting, this service is for all ages, and especially for anyone who prefers acoustic worship versus the pop/rock style played in the West Venue. You'll find the East Venue through the main doors to the right.
north venue
The North venue is where C3 Youth (6th- 8th graders) meet on Sundays during the 10:30 a.m. service! At C3 Youth Sunday, you can expect a live band playing high-energy music, content and discussions specifically designed for preteens, and more!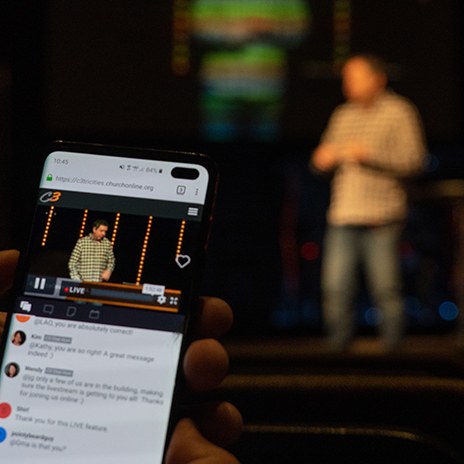 Online
This is the West Venue service, in its entirety, live streamed to your couch (minus the free coffee—our IT crew hasn't perfected that aspect, yet). Stay in your PJs, snuggle the dog, and watch from home or wherever you happen to be! Join us LIVE Sundays at 9 a.m. and 10:30 a.m. on YouTube or on our website. Our livestream can even be accessed through our mobile app!
Everything at C3 Tri-Cities is based on the central focus of a new life in Jesus. Having a relationship with Jesus is the most important decision you'll ever make. Many discover this new life simply by praying to God and asking Jesus to come into their lives, to forgive their sins, and to make them new from the inside out.
(Infants – 5th Grade)
We love guiding kids to learn about Jesus, practice wise choices, build lasting friendships, and trust God! Every Sunday at all services, there are exciting and fulfilling programs for the kids! The stories, crafts, and activities are designed for the appropriate ages in each group. We also provide weekly online content to help your child's spiritual growth.
We're serious about helping students recognize that following Christ is the most meaningful life they can experience. On Wednesdays at 6:30pm, students in grades 6-12 gather in person or online for games, music, and motivating messages. At C3 Youth gatherings you can expect a high energy, fun experience that points students towards a deeper relationship with Jesus.
We're all about growing through connections in groups! Groups of 5-20 people gather to learn, connect, heal, and study. Christ centered groups are a necessary step in spiritual growth. All of our groups have open enrollment periods each quarter, but many of them are available for you to join anytime. Getting plugged in is easy!
Next Steps is a culture at C3.  They reflect the way a follower of Jesus grows spiritually and becomes mature over time.
Everyone has a next step. What's yours?
salvation
accept your faith
baptism
declare your faith
gather
express your faith
Our mobile app has on-the-go information about events, sermons, the latest announcements, online giving and more. You can even watch the Sunday message LIVE.
Don't miss out. Download the C3 app today!